Who's Online
We have 4 guests and 0 members online

You are an anonymous user. You can register for free by clicking here

Welcome to K6Plus!




This site made possible by fellow K6-x enthusiasts!

Our Mission: To provide a resource for users of the K6 and K6+ series of processors. K6Plus will provide benchmarks, utilities, tweaking guides, tips, and tricks to get your system up, running, and to maximize it's performance.





"It doesn't matter whether you've been reading the Mac or PC magazines. You probably know that some of the big news has been Apple's release of their up and coming G5 (IBM 970) powered PowerMacs. Earlier today, a set of benchmarks for a single processor 1.6 GHz G5 using Cinebench 2003 and Xbench were posted at Chaosmint.com. Since the 1.6 G5 ws the closest in price to the PowerMac I just bought, I was curious to see how that G5 would stack up against my current crop of machines. Since the G5 benchmarks had used Cinebench 2003, it was an execellent opportunity for me (and you!) to see how it stacked up against both other macs and a Windows machine. So, I downloaded Cinebench, ran the benchmark, and tallied the results up using Microsoft Excel."
Article at The AndyZone

| | |
| --- | --- |
| (1 Reads) | comments? |




"Today, we'll look at the very interesting Enermax CS-517LBFS-B+ steel (front bezel manufactured of aluminum) Mid-Tower case. I say interesting, because it has the glossiest automotive type finish I've seen on any case, plus a slew of innovative and downright cool features, not to mention the low suggested retail price of around $ 80.00 US, and that includes a power supply."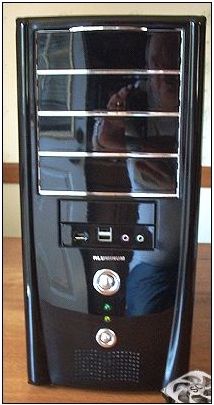 Review at Systemcooling.com

| | |
| --- | --- |
| (0 Reads) | comments? |




"VIA had been holding the performance crown on the AMD platform with its "KT" series chipsets until about half a year ago when Nvidia's Nforce 2 hit the market. The Nforce 2 had VIA beaten both in terms of performance and features. For the next few months, VIA had remained relatively low profile. VIA, however, proved that it is still up for a fight by coming up with the KT600 Northbridge and the VT8237 Southbridge recently."
Review at VR-Zone Hardware

| | |
| --- | --- |
| (0 Reads) | comments? |




"After some heavy testing we have seen that this cooler has a good capability to compete with the heavy duty heatsinks in the market. This cooler has fan controllers and a relly high quality fan that keeps the fan really quiet when running it on low rpm."

Review at Red & Blackness

| | |
| --- | --- |
| (0 Reads) | comments? |




"We now can confirm that AMD Athlon 64 FX processor based on 90nm San Diego core with Socket 939 form-factor will be launched next year, but will not be pin-to-pin compatible with existing mainboards, as The Inquirer told you earlier."
Story at X-bit labs

| | |
| --- | --- |
| (0 Reads) | comments? |




"I was highly skeptical of this power supply when I first received it for review, however as far as performance goes, I stand corrected and very impressed. I am so used to having a dual fan power supply running in my systems that I automatically assumed this would be a poor performer based upon it's one exhaust fan and it's rather plain appearance. The phrase "all that glitters is not gold" comes to mind. This power supply is not as showy as my Enermax EG365P 350W power supply but it sure performs just as well if not better."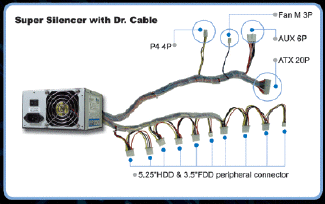 Review at OCAddiction.com

| | |
| --- | --- |
| (0 Reads) | comments? |




"Despite staunch legal opposition from Hollywood, a new package of DVD-copying software is headed for online and offline retail shelves.

DVD drive company Tritton Technologies on Friday said it agreed to distribute software called DVD CopyWare, created by United Kingdom-based Redxpress. Like software from rival 321 Studios, which has been sued by the Motion Picture Association of America (MPAA), the CopyWare package will make a perfect copy of DVDs to a blank disc.

Tritton said it is simply trying to help people make backup copies of their own DVDs, not facilitate movie piracy, even though no protections against making multiple copies or making duplicates of copies are included in the software."
Story at CNET News.com

| | |
| --- | --- |
| (0 Reads) | comments? |




"Vantec has got a winner here. Allowing a massive 18W per fan channel, the NXP-205 can support even the most power hungry fans with ease. Looks-wise, the silver faceplate complements my Lian Li PC-12's black bezel nicely. It gets top marks for aesthetic value. Having a fan controller in the oft-unused 3 1/2" bays allows the end user to fully utilise the 5 1/4" drive bays as well."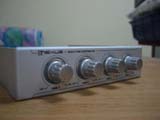 Review at 8Balls Hardware

| | |
| --- | --- |
| (0 Reads) | comments? |




"Have you ever owned and eMachine or just wanted a small power supply for the HTPC? Seasonic has just released the Super Versatile 200 and it just very well may be the perfect match for your project."

Review at Ohls-Place

| | |
| --- | --- |
| (0 Reads) | comments? |




"The remarkable thing about KASY0's price/performance is that, while network hardware is often the dominant cost for a system of its size (128 plus 4 spare nodes), less than 11% of the system cost went for the network hardware. The AMD Athlon XP 2600+ processors were more than 35% of the total system cost; memory was 21%."
KASY0 Press Release

| | |
| --- | --- |
| (1 Reads) | comments? |


The WallComp
Posted by: Nohr on Saturday, August 23, 2003 - 06:58 PM


"For a while I had wanted to do something different. I wanted to make a new type of computer case unlike any I have seen, but I didn't even know what to make it with. I thought of working with fiberglass (car-stereo style), real glass, or even modifying a glass desk. Then I found the Soldam Prism (now Prism II). This one desk/case really inspired me. A few seconds after I laid eyes on it, I was already imagining it sideways on my wall. Of course the $750 price tag to get it to my door quickly eliminated that idea. It was time to take drastic measures... it was time to mod"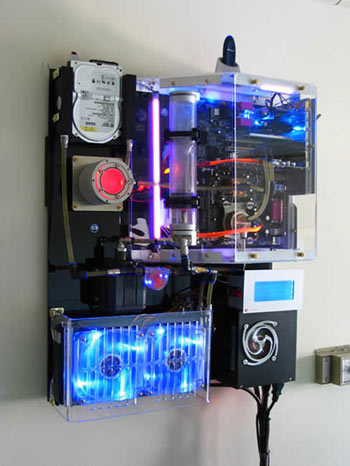 Article at BlynkNET

Note: Ever wanted to see a watercooled PC hanging on a wall? Here you go..

| | |
| --- | --- |
| (0 Reads) | comments? |




There's a new version of Nero 5.5 out for those of us who haven't upgraded to Nero 6. No changelog as of yet.

Nero 5.5 Download Page



| | |
| --- | --- |
| (1 Reads) | comments? |




"With 52x burn speeds, it is not the minor speed differences (a few seconds here, a few seconds there) that matter. What matters is that the quality of the burns stays consistently high when writing at such speeds, and quality is that on which the review will focus - so let's see if the Lite-On 52x32x52 drive is up to scratch!"
Review at Techware Labs

| | |
| --- | --- |
| (0 Reads) | comments? |




"I must admit the Coolermaster Aero 7+ is something that I've really enjoyed reviewing. The quiet noise level, ease of installation, choice of front or rear fan speed control and the superb performance make this a top notch cooler in my book. If you're in need of a new HSF for that high end AMD gaming rig, with the Coolermaster Aero 7+ you wont be disappointed."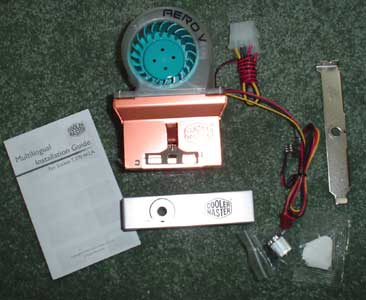 Review at 3dXtreme

| | |
| --- | --- |
| (0 Reads) | comments? |




"Today we're looking at a very fast CD-RW from a relatively new name in the retail market, Mad Dog Multimedia. We ran the drive through its paces and it came out looking very good. This review also doubles as a giveaway. Has that 2x burner you've been hanging onto burned its last coaster? Time to upgrade? Read the review and check out the contest, you never know, you might win this sweet drive."
Review at Tweak3D.Net

| | |
| --- | --- |
| (0 Reads) | comments? |


Visitors
91605 since 3-28-03
75,000 since 5-15-01