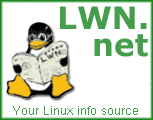 TrustCommerce
E-Commerce & credit card processing - the Open Source way!
---
You are not logged in
Log in now
Create an account
Subscribe to LWN
 
None
 
Recent Features

University Of Kentucky Supercomputer Breaks The $100 Per GFLOPS Barrier
Researchers at the University of Kentucky have constructed and demonstrated a parallel supercomputer that achieves application performance of more than 1 billion floating point operations per second (GFLOPS) for every $100 spent on building the machine, using standard PC parts in a Linux "Beowulf" cluster.
---
No comments have been posted. Log in to post comments.