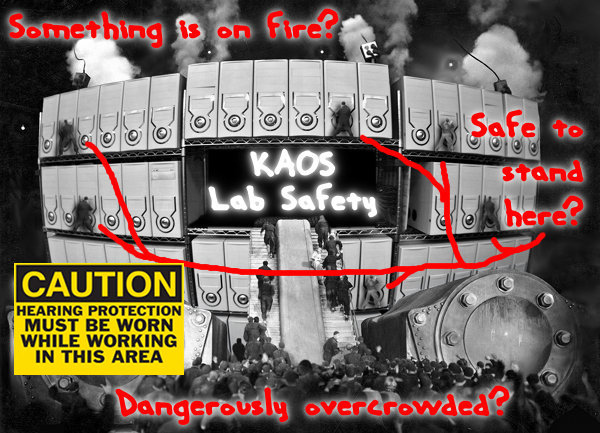 KAOS Lab Safety, May 15, 2012; last updated February 21, 2022
Safety First
Our computer equipment might not be as dangerous as the above looks, but that doesn't mean you can't get hurt. Things can and will go wrong.
COVID-19 (updated Feb. 21, 2022)
University of Kentucky policy has safely gotten us through the pandemic thus far, and everyone is required to at least take the precautions it specifies. As I write this, at least 89% of the UK campus community has been vaccinated, and many even have gotten boosters, but the pandemic isn't over, even for those of us who have been fully vaccinated. UK is fully back to "normal" in-person interactions -- but with masking required and weekly testing for those who are not fully vaccinated. If you believe you are sick or have been exposed, take appropriate actions, which basically means get tested and quarantine as appropriate. Our lab continues to take some additional precautions, such as fewer people spending lots of time in 108 Marksbury and having a separate HEPA air cleaner running 24/7.
Unless there is literally just one person in the lab, you must wear a mask while in the 108 Marksbury lab -- preferably a KN95, but certainly a "real" mask that covers mouth and nose and provides decent filtration value (i.e., not cloth nor an unsealed face shield, and also not a mask with a filter bypass for exhaling).
General Safety Issues For KAOS Labs
All students, faculty, and staff are expected to know and abide by the following rules:
In general, it is expected that everyone will use ordinary care not only to follow safety guidelines, but also to know and follow University of Kentucky safety procedures and rules. For example, smoking is not permitted in any KAOS facility.
Ultimately, you are responsible for knowing and using appropriate safety equipment and procedures. If there is anything unclear, it is your responsibility to seek clarification. If you see a potential danger that we have not addressed, it is your responsibility to report it to Professor Dietz.
If you see signs of a developing problem, deal with it if you can but always report it. Professor Dietz is often in his office, room 203 Marksbury. The Marksbury main office is also a good place to report issues in Marksbury; the Electrical and Computer Engineering main office, 453 FPAT, is appropriate for reporting issues in the facilities in FPAT.
If you do get injured, seek assistance immediately. 911 can save a life -- maybe yours.
Even the charge left in a small capacitor can be enough to cause injury or death; be careful how you handle electrical wiring and components, even if they are not plugged in. We also use a lot of extension cords and power strips, and you must respect their ratings; in particular, many are rated at 15A but are plugged-into 20A circuits, so it is quite possible to overload them if you don't pay attention. It is useful to note that power in our labs comes from multiple circuits, and it is possible that ground on one circuit differs significantly from ground on another, leading to a potentially damaging flow of current between grounds. Similarly, signal grounds are not necessarily the same as chassis grounds.
By far the most common injuries in our lab involve minor cuts from handling the often sharp, poorly finished, edges of parts of metal PC cases. Be aware of this and take whatever precautions are appropriate.
Food and drink are allowed in our labs. For cluster supercomputer build parties and some group meetings, we often supply food. There is even a small refrigerator and microwave in 108 Marksbury. However, eating generally should be confined to 108 Marksbury, and mostly done on the conference/work tables -- safely away from any electronics. Anyone eating or drinking is expected to clean-up after themself. Never leave unlabeled or outdated food/drink in the refrigerator.
Specific Safety Issues For KAOS Machine Rooms
The room that houses our cluster supercomputers, 108A Marksbury, is intended to be comfortable for cluster supercomputers, not humans. There are various issues to be aware of:
Machine rooms are loud. Short exposure is probably harmless, but do not work for extended periods in a loud machine room without hearing protection. Earplugs are available in 108 Marksbury for use in 108A Marksbury. Noise levels could fluctuate depending on what systems are there and running -- and even how stressed they are (fan speeds are controlled based on loading). Thus, it is ultimately your responsibility to determine and apply appropriate hearing safeguards based on the noise levels you observe.
On May 23, 2012 simple measurements were made of the sound levels in the 108A Marksbury machine room and the nearest section of room 108 where KAOS students work. The OSHA Occupational Noise Exposure guidelines require "a continuing, effective hearing conservation program ... whenever employee noise exposures equal or exceed an 8-hour time-weighted average sound level (TWA) of 85 decibels measured on the A scale (slow response) or, equivalently, a dose of fifty percent." Exposure to 80dBA or greater is counted in computing the average dose. Sound levels in 108 are of little concern, as they peaked around 56dBA. Although 108A is rarely occupied for even an hour per day, it averaged around 80dBA with the loudest area (near the corner farthest from the door) peaking around 85dBA. The primary sound source seems to be the floor vents; in fact, the hot aisle was at least 5dBA quieter despite the multitude of little fans blowing hot air from inside PC cases. Thus, it appears that noise levels in 108A are unlikely to be significantly increased by the computer equipment operating in the room.
Racks of equipment are heavy. Be careful how you push the racks around and do not climb or lean on them.
Cluster supercomputers have many cables interconnecting components, routing power, etc. Be very aware of what cables you're touching and be careful not to trip or become entangled.
Be aware of air conditioning:

108A Marksbury

The floor is raised above a chamber that serves as a duct to provide cooling to the room; the air return is in the top of the unit in the back of the room. Beware loose or uneven tiles. Also be aware that air will usually still flow even when it is not being cooled, so notify others if the floor vent tiles are not blowing cold air. There is an emergency shutdown script for powering-down the clusters.

In case of a fire, be aware that machine rooms like 108A Marksbury generally only have one exit. Don't let a fire get between you and the exit. Also be aware that our machine rooms have water sprinkler systems for fire control, which doesn't suck the oxygen out of the air like some systems, but the combination of literally tons of electrical equipment and water does not make a safe environment. Get yourself (and anyone else you can) out and get help.
The big red button near the door in 108A Marksbury is supposed to kill the power to everything in the room. Don't press it unless absolutely necessary, but if somebody is being electrocuted or there's a fire that could trigger the sprinklers, hit that button immediately.
Who To Contact
If there are any problems, let other folks in the lab know and please contact either Professor Dietz or Paul Eberhart.
---
The only thing set in stone is our name.