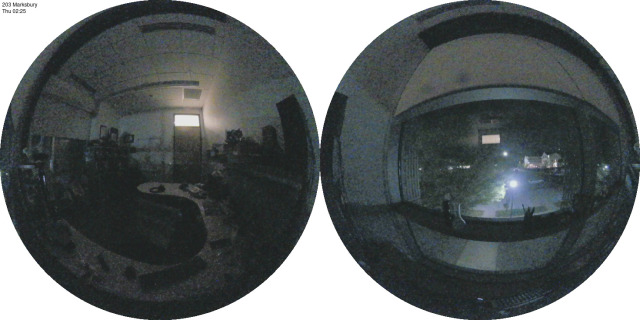 Aggregate.Org Sensors
This page serves as an index to the primary sensors in areas managed by members of KAOS within the Electrical and Computer Engineering Department of the University of Kentucky. These and other sensors serve several purposes:
Make it easier to find group members. It is surprisingly awkward to find people when group resources are spread across several physically-distinct areas. The Davis Marksbury Building is about 7 blocks away from F. Paul Anderson Tower.
Provide security. It's a tradeoff, but we like cameras and other sensors better than extensive use of locks -- they are less disruptive to our research.
It's research too. We also are using the sensors to develop and test various new technologies, primarily relating to camera control and processing of digital images.
The cameras are generally intelligently controlled by PCs running Linux. Old RS232C cameras, such as the Nikon 950 and Olympus D340R, are able to be controlled in detail using the photopc package. More modern USB-interface still cameras, especially Canon PowerShots, are often given a similar level of control using gphoto2, but the control is not well standardized, and varies significantly across camera models. Many network cameras, such as the D-Link DCS-900, only offer control via HTML WWW forms; filled-in forms can be generated and sent using wget, although this does seem to reveal memory leaks in the firmware of a number of network cameras.
Some images are now using HDR (high dynamic range) processing that involves combining multiple images captured with different exposures. Such techniques can produce ghosting and other artifacts, but are necessary when low dynamic range cameras are monitoring a very high dynamic range scene. Without HDR, large portions of the frame would be featureless black or white in such cases.
The Commonwealth of Kentucky allows recording of images where there is no expectation of privacy and allows recording of sounds with notice posted. Appropriate notice is posted near the outside of the door to each area where sounds may be recorded.
---
672 FPAT (859 257 9695)
Our big "old" machine room. Home of HAK (Half-powered Athlon cluster in Kentucky) and a couple of smaller clusters. Despite having a new machine room, we still need 672 FPAT for machines with physical configuration issues that prevent them from physically fitting, or being worked on, in 108A Marksbury. This is the lab where cluster hardware is regularly being tweaked. We also have literally tons of parts there. However, this room is slowly being converted into the new Open Computing Lab (OCL)... a lab to support various upper-level computer engineering courses. The conversion will probably be complete sometime in Summer 2013.

(last 8 motion-detect events captured using D-Link DCS-900 with peephole fisheye adapter)
The above low-quality view is temporary....
It is with a sad heart that I note the passing of the Nikon 950 which provided the high-resolution fisheye views of this lab for more than a decade. It captured several million full-resolution still images before it died. No autopsy yet, but it looks like the power regulation died in the camera -- there is no sign of life from it at all. However, it's brother is still clicking away in 108A Marksbury....
---
108 Marksbury (no phone)
The shared ECE lab of Professors Dietz, Heath, and Qiu. This laboratory provides a setting in which research not only can be conducted by individuals, but collaboration is encouraged. Three of the 12 desks are claimed by Dietz's students (the ones in the first camera view below), three by Heath, and four by Qiu. The remaining two desks are being set-up by Dietz as "transient" workspaces for whoever needs them: visitors, REU students, etc. The second camera view below is the view of the front of 108 looking out the viewing window in 108A. The third camera view is a motion-triggered view of the door to 108 Marksbury.

(captured using D-Link DCS-900 with peephole fisheye adapter)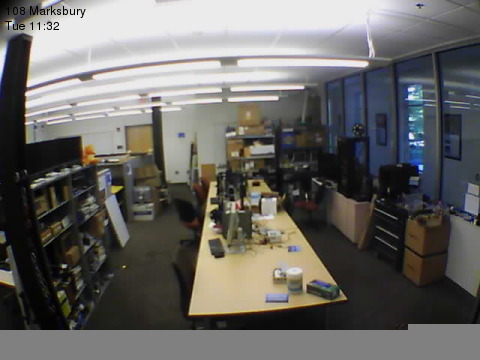 (captured using D-Link DCS-900 with peephole fisheye adapter)


(last 8 motion-detect events captured using D-Link DCS-900)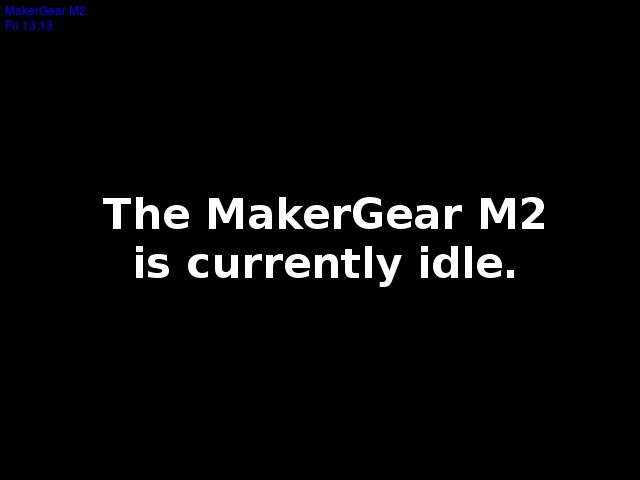 (from a webcam mounted on our MakerGear M2)
---
108A Marksbury (no phone)
This is our scary new machine room. (Please use hearing protection for any extended periods spent in the machine room during set-up or maintenance; the cooling system fans are really noisy!) Designed to hold a large scale research supercomputer, this room even feeds back waste heat to warm the building. This room currently houses NAK (NVIDIA Athlon cluster in Kentucky) and four smaller clusters. The plan is to focus on GPU-based systems for this facility, replacing/upgrading the smaller clusters on a fairly aggressive schedule. This is the lab where cluster hardware is kept relatively stable to support systems, and even some applications, software development.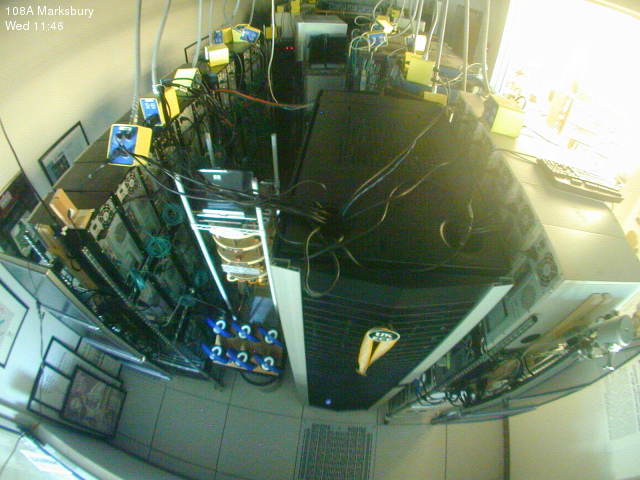 (captured using Nikon 950 with fisheye adapter)

(last 8 motion-detect events captured using D-Link DCS-900 with peephole fisheye adapter)
---
203 Marksbury (859 257 4701)
This is professor Dietz's new office. It's a fish tank, which is why the fisheye view shows as much of outside as inside the office. For now, there's also a camera pointed out the window testing some simple software for monitoring people entering/leaving the building.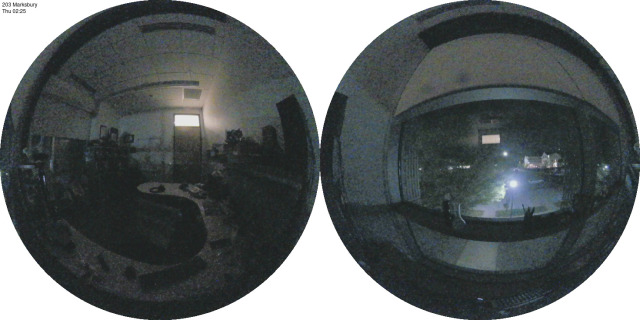 (captured using D-Link DCS-900 with peephole fisheye adapter)

(last 8 motion-detect events captured using D-Link DCS-900)
---
The only thing set in stone is our name.