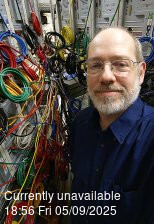 Dr. Henry G. (Hank) Dietz
Professor of Electrical and Computer Engineering and James F. Hardymon Chair in Networking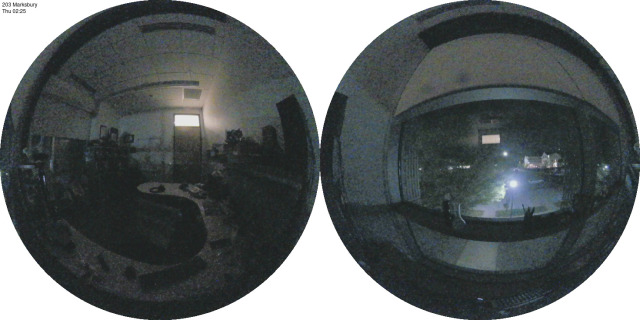 University of Kentucky
College of Engineering
Electrical and Computer Engineering Department
453 F. Paul Anderson Tower
Lexington, KY 40506-0046

Phone: (859) 257 4701
Fax: (859) 257 3092
Email: hankd@engr.uky.edu
Office: 203 Davis Marksbury Building
Lab: 108/108A Davis Marksbury Building
329 Rose Street, Lexington, KY 40506-0633
It's generally best to schedule Zoom or in-person meetings with me via email. Until the pandemic is fully over, let's all still wear masks when in-person together in a smallish space (e.g., meetings in my office). Unscheduled in-person meetings with students also are possible most of the time I'm in my office or lab. I'm regularly available in my office or lab from about 9AM to 1:30PM on Tuesdays and Thursdays. Also check out the slow-update 360° view of my office and automatically-updated location/time stamp text on my photo.
I am a member of the University Senate, which meets at 3PM on the Mondays listed here, and I am a member of the Distance Learning and e-Learning committee, which meets various Fridays from 11AM-noon. I also am Chair of the College of Engineering Faculty Advisory Council, which meets as necessary.
Fall 2022 Schedule:
CPE380/CS380: Computer Organization and Design, 323 Robotics & Manufacturing Bldg, TR 2:00-3:15
EE685: Digital Computer Structures, 265 FPAT, TR 3:30-4:45
This semester, it is likely I'll be presenting work at three conferences: LCPC Oct. 12-14, SC Nov. 14-17, and ICRC Dec. 8-9.
Class meetings that overlap these conferences will be covered via electronic means if I attend the conferences in person.
Pandemic URLs: CDC, State graphs, UK Corona Virus homepage
Research URLs: Aggregate.Org, Senscape.Org, Purdue (archived), Linkedin
Societies: IEEE, ACM, SPIE, IS&T, KAS, Kentucky Colonels
Student Group URLs: IEEE, UK First-Gen
Conferences: IS&T Electronic Imaging, LCPC, SC, IGSCC, ICPP, ICRC
Other potentially Useful URLs:
Curriculum: PIAEE, EPICS, Computer Engineering Curricula 2016, Computing Curricula 2020
Local Stuff: myUK , canvas , LEX18
Personal: Dr. Sabire Ozcan (wife), Dr. Paul Dietz (brother), Dietz Company, GCHS 1977, Image Of The Day
External Postings (most as "ProfHankD"): Quora, Instructables, Printables, Thingiverse, DPReview (Technology Enabling Art), PentaxForums, Dyxum, FDReview, AllPhotoLenses
Truly random things: Tested: Smart Cookie, Kofte, Hank's Electric Tractor Page

---
The only thing set in stone is our name.